Medical Malpractice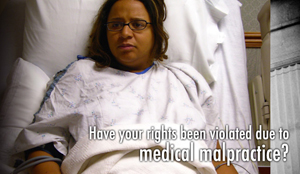 Medical malpractice or negligence can lead to injury or death to a patient when a healthcare provider does not provide care within accepted standards of practice. This may include but is not limited to, failure/error in a timely diagnosis, hospital/physician/nursing negligence, birth defects/injuries, mistakes in surgical procedure, failure to consult appropriately with specialists, failure to order appropriate treatment, pharmaceutical errors and other errors that cause injury. At Jenkins, Block, & Associates we believe you, as the patient, are entitled to know what caused you harm. Medical care and modern medicine is rapidly advancing over time, however negligent practices still take place.
Healthcare providers do not just include doctors. Dentists, therapists, pharmacists, podiatrists can all be negligent and be the cause of injury or death. Doctors, nurses, hospitals, birthing centers, nursing homes have representation to protect and defend their interests – you deserve the same. Call us today & Get JBA First!
Frequently Asked Questions
What is medical negligence?
Medical negligence is often confused with medical malpractice, when negligence is only one part of a medical malpractice claim. In terms of a definition, the most commonly used in legal cases is as follows: Medical negligence is the act or omission in treatment of a patient by a medical professional, which deviates from the accepted medical standard of care.
In terms of medical malpractice tort law, medical negligence is usually the basis for a lawsuit demanding compensation for an injury caused to a patient by a doctor or other medical professional. Negligence on its own does not necessarily mean a medical malpractice claim exists, however, when the negligence results in undue injury to a patient, a lawsuit may be brought demanding compensation for all related damages.
What is the first step in pursuing a medical malpractice claim?
The first step in pursuing a medical malpractice claim is suspecting that one may have been a victim of medical negligence, a medical mistake, or misdiagnosis. It is important to remember that not every unfavorable result is due to medical malpractice. But if you feel you may have a medical malpractice claim, you should contact the experienced staff at Jenkins Block & Associates immediately so that we can provide you with a free consultation. We will give you a complete case analysis and an idea of the process for medical malpractice cases so you know what to expect.
Do I need my medical records?
We will assist you with requesting and obtaining your medical records. Our staff will review your medical records and other relevant information as part of a medical malpractice claim. Patients have a right to obtain copies of their medical records. If the records involve someone who has passed away, the process might be a little more complicated. A thorough record review is the starting point in evaluating your case. We will keep you completely informed and up-to-date as progress is made.
How much could my case be worth?
Attorneys are prohibited from promising that they will get a certain amount of money for you. There are many factors that are considered when determining the possible value of a case. If you think you have a medical malpractice claim, we would be happy to provide you with a free case consultation to answer any and all questions you may have. Contact us today, and Get JBA First!
Is there a time limit to file a medical malpractice claim?
There are different laws regarding time limits in each state. Generally, the statute of limitations in Maryland's medical malpractice suits is five years from the time the malpractice was committed, or three years from the date the injury was discovered whichever is shorter. At Jenkins Block & Associates, we have experience in handling medical malpractice cases from many states, including Virginia, Washington, D.C., and Pennsylvania. If you have questions about a possible medical malpractice case in any state, please contact us for a free case consultation. There are many potential exceptions for medical malpractice cases, so you should consult one of our qualified medical malpractice lawyers for more information.
Are nursing home cases considered malpractice?
Possibly, it depends on what was done or not done. Many states have adopted special procedures and remedies for nursing home issues, and even adopted a "bill of rights" for nursing home residents. If you have questions about a specific nursing home case, please contact our experienced staff for an individual consultation at 1-800-243-2439.
What is "informed consent"?
Although the specific definition of informed consent may vary from state to state, it essentially means that a medical provider must tell their patient all the potential benefits, risks, and alternatives involved with any medical procedure, surgical procedure, or course of treatment. They also must obtain the patient's consent to proceed with any of these treatments. If the medical professional does not offer this information or obtain consent, they could be guilty of medical malpractice or medical negligence.
How long will my case take?
Normally, a medical malpractice case will take anywhere from 1 to 3 years.
(Visited 103 times, 1 visits today)